"Asian retail witch": Actively helping Binh Phuoc reach far with Singapore investors
2022-12-22T07:33:01-05:00
2022-12-22T07:33:01-05:00
https://binhphuocittpc.gov.vn/en/news/investment-promotion/asian-retail-witch-6.html
https://huongnghiepthitruong.vn/wp-content/uploads/2022/05/anh3-1-300x169.jpg
Investment, Trade and Tourism Promotion Center of Bình Phước Province
https://binhphuocittpc.gov.vn/uploads/engbanner-xtdt.png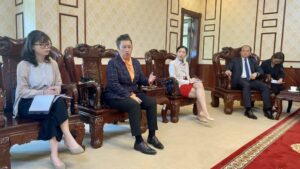 Amy Wee - Country Director of Singapore Business Federation in Vietnam
(2nd from left) hopes many Singaporean enterprises will invest in Binh Phuoc.
Sharing with the leader of Binh Phuoc province, Amy Wee - "Asian retail witch", Singapore Business Federation (SBF) Country Director in Vietnam emphasized that she will make efforts to invite Singaporean investors to this province.
Vietnam and Singapore have achieved rapid and strong developments in cooperation between the two countries, especially economic cooperation continues to be one of the highlights in cooperation and linkage in the region. Recently, Singapore has become the second largest investor in Vietnam with a total registered capital of over 67.5 billion USD.
Over the past 20 years, Vietnam - Singapore Industrial Parks (VSIP) have operated more and more effectively, actively contributing to the strategic partnership between the two countries. Cooperation in defense - security, culture, education, and people-to-people exchanges has been maintained at a strong growth rate.
In that context, recently, provincial leaders and representatives of a number of departments and branches in Binh Phuoc have just welcomed the delegation of Mr. Kho Ngee Seng Roy, Consul General of Singapore in Ho Chi Minh City came to politely greet and learn about investment in this province.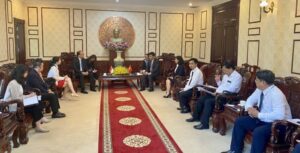 Overview of the meeting with the delegation of the Consulate General of Singapore
On this occasion, with more than 23 years of experience in the field of marketing consulting in Singapore, the United States, Australia, Thailand and Vietnam, Ms. Amy Wee - Marketing expert, "Asia Retail Witch",
Country Director of Singapore Business Federation
(SBF)
in Vietnam
shared that the Federation currently has more than 27,000 member enterprises.
According to Ms. Amy Wee, each month, the Federation has accompanied and supported 5-7 Singaporean enterprises to invest and set up enterprises in Vietnam. Recently, a very good news is that this number has doubled.
At the reception, Secretary of Binh Phuoc Provincial Party Committee
Nguyen Manh Cuong emphasized that in order to strengthen the close relationship between Vietnam - Singapore and promote the economic development of the two countries, with the strengths of the province, Binh Phuoc wishes to cooperate with Singapore in areas where the province has strengths and Singapore has needs.
Besides, Mr. Cuong shared information with the delegation about the business environment and investment attraction policies of Binh Phuoc.

"Binh Phuoc is trying to develop strong fields such as agriculture, industry and services; drastically improving the business investment environment, creating the best conditions to attract investors to the province"

, Mr. Cuong affirmed.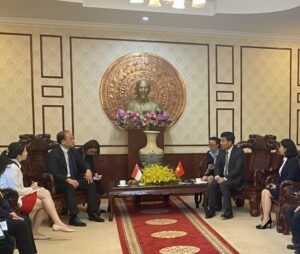 Secretary of Binh Phuoc Provincial Party Committee Nguyen Manh Cuong
(2nd from right) hopes that the province and Singapore will soon join hands to develop specific programs and projects.
Accordingly, Binh Phuoc is promoting investment in building infrastructure, connecting traffic, creating favorable conditions in circulation and transportation of goods; step up the training of human resources and skilled labor force to meet job requirements. Therefore, Binh Phuoc will create many advantages for groups and enterprises from Singapore to invest in Binh Phuoc in accordance with the law.
Secretary of the Provincial Party Committee Nguyen Manh Cuong commented that with the strengths of clean industry, green production and business administration skills of Singapore enterprises, once combined with the advantages of Binh Phuoc, it will create many advantages great and practical benefits for both sides.
Mr. Cuong hopes the two sides will soon cooperate to develop specific programs and projects right after the mission's visit to Binh Phuoc province; At the same time, Mr. Cuong hoped that within the framework of the staff training cooperation project between the Central Organizing Committee and Singapore, there would be an interest in Binh Phuoc through a training program in Vietnam.
According to Director of Binh Phuoc Investment, Trade and Tourism Promotion Center, Tran Quoc Duy, the warm, attentive and friendly reception of Binh Phuoc province's leaders made a special impression on the delegation.
Thereby, Mr. Kho Ngee Seng Roy, Consul General of Singapore in Ho Chi Minh City sincerely thanked Binh Phuoc province's hospitality, and said that Singaporean enterprises are learning about Vietnam's business policies after the pandemic.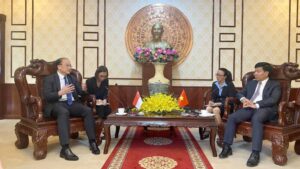 Consulate General of Singapore in Ho Chi Minh City. Ho Chi Minh City Kho Ngee Seng Roy (left cover) said that the delegation will soon send information about investment opportunities in Binh Phuoc to Singaporean enterprises.
In particular, Mr. Kho Ngee Seng Roy informed that Singaporean enterprises are very interested in key
fields
that Singapore will invest heavily in in the coming time, typically: green economy, digital economy, renewable energy. create, solar energy...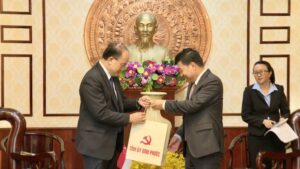 At the reception, souvenirs were given to each other by Secretary of the Provincial Party Committee Nguyen Manh Cuong and Mr. Kho Ngee Seng Roy.
For Mr. Kho Ngee Seng Roy, information about existing strengths and policies to attract investment from Binh Phuoc province is very useful. The mission will notify Singapore ministries and sectors about the training work mentioned by Binh Phuoc and fully inform Singapore enterprises about investment opportunities and related policies to gradually build a long-term and sustainable cooperation relationship with Binh Phuoc in a number of fields in the coming time.